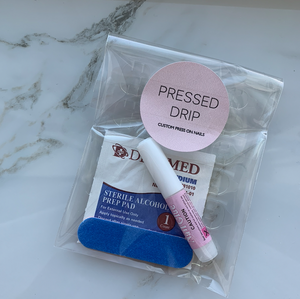 Add this application kit to your purchase! All the essentials that you'll need to go with your drip set. 
INCLUDES: Nail Glue (1), Nail File (1) , Sticky Tabs (1 set of 10), Alcohol Wipe (1)
nail glue - for longer lasting wear
sticky tabs - for short term wear - 1 set of tabs includes 10 sticky tabs for each nail
nail file - file and buff out nails prior to application
alcohol wipe - remove excess oils from natural nail for longer lasting wear
Starting 8/3/2020, Pressed Drip will no longer provide nail glue and nail file complimentary with your purchase. Please keep this in mind when purchasing!